Sixteen-piece orchestra Manolito Simonet y su Trabuco is one of Cuba's greatest and best loved timba bands. The group's innumerable international tours are a mark of its huge success over the past 25 years.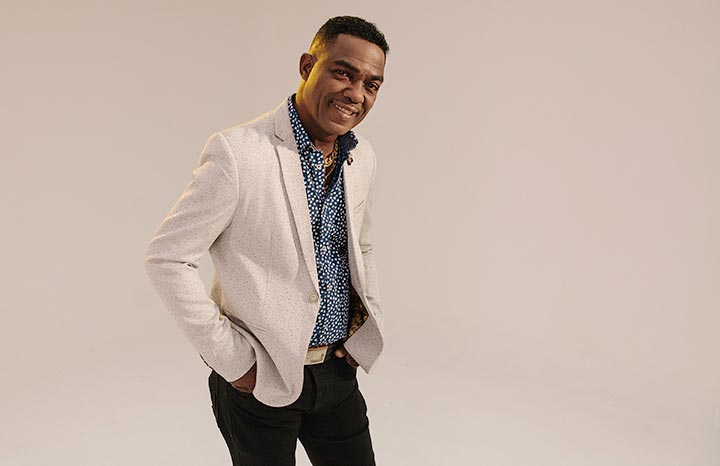 Salsa lovers highly estimate Manolito y su Trabuco by its innovative and unique sound. Based on the traditional line-up of charanga orchestras (violin, chello, flute, timbales) visionary band leader Manolito Simonet added keyboards and drums. Top that with three singers, who all take solos, and you have a powerfull and dynamic act that makes salser@s dance all over the world!
Born in Camaguey, Manuel Simonet learnt piano and tres with the amateur artists movement. In the early 1980s he became the pianist for two groups, Lágrimas Negras and Inspiración. In 1986 he became musical director, main composer and arranger for Maravillas de Florida orchestra, taking them to great popularity in Cuba.
In 1993 he created Manolito y su Trabuco. "Trabuco" is a colonial pistol and in Cuba it's used as synonym for strength. Manolito's Trabuco lives up to its name being a powerful, explosive group. Already in 1994, "Mi Salsa" – Cuba's most popular TV music programme – hailed the group as the discovery of the year. The following year they produced their first record "Directo al Corazón", with EGREM label and embarked on their first international tour. Both were an instant success.
"Contra Todos los Pronósticos" (1996), "Marcando la Distancia" (1998), "Para Que Baile Cuba" ( 2000), "Se Rompieron los Termómetros" (2001) are the names of the following albums and also titles of already legendary salsa hits of the band. Together with songs like "Todavia no". "Amor matemático", La "Boda de Belén" or "El Águila" – for which composer Manolito Simonet was awarded with the ASCAP prize of Best Latin Song after Victor Manuelle's covered it. Manolito y su Trabuco also won the dance music award of the most important Cuban Music event, Cubadisco in 1999, 2000 and 2004, as well as the Nicolas Guillen poetry prize for the track "Llegó la Música Cubana". In 2004 their album "Locos por mi Habana" got again several national awards, among the EGREM one for the year top-selling record. With "Hablando en Serio" in 2006 and "Control" in 2008 two more very popular CDs were published.
"Trabuco Una Vez Más" in 2010 was first album signed with new label Bis Music. A successful collaboration that continued 2013 with "Sin Freno", 2016 with "No Puedo Parar" and since 2018 and CD "La Vida Cambio" extended with co-production of international label Endirecto. The 2010 recording "Beat Cubano" was the first Latin Jazz Album of the Band and presents the great sound and genre variety of the group. A flexibility witch in 2015 got reflected also at "Hecho en Cuba" – a album together with Sting's lifetime sidekick, guitar star Dominic Miller and was also the basement for the "Two Beats One Soul" project in 2017 and 2018 in Havana, featuring remarkable US R&B artist.
Manolito Simonet y su Trabuco – true giants of Cuban popular music for salsa dancers and music lovers.